Meet our team at Women's Voices Now, where we believe in the power of film to drive positive social change that advances women's and girls' rights globally.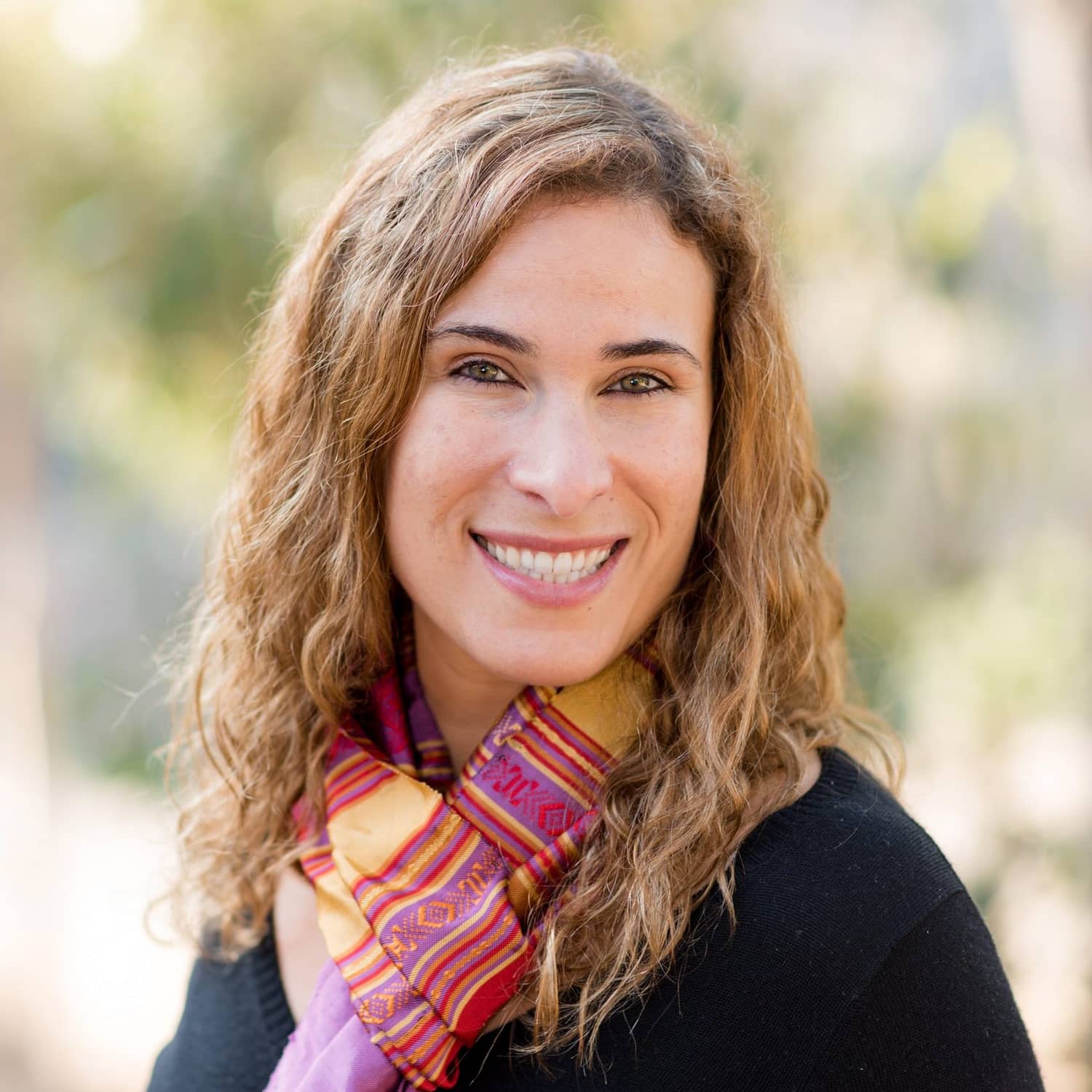 Heidi Basch-Harod
Executive Director
Heidi Basch-Harod is the executive director of Women's Voices Now (WVN), a Los Angeles-based non-profit organization that uses film to drive positive social change to advance girls' and women's rights globally. Heidi is responsible for the vision, strategy, and international fundraising efforts that sustain and grow WVN's programs, locally and globally. Heidi brings her experience in international human rights advocacy from her work with Tibetan Nuns Project; the Tom Lantos Human Rights Commission of the U.S. Congress, and the Palestine-Israel Journal. In 2021, she received a Daytime Emmy as a producer of the "Girls' Voices Now" series, in collaboration with Here Media.

She is a scholar of the modern history of the Middle East and North Africa, specializing in women's rights movements of the region. She is a published author, both in print and online.

For over 10 years, Heidi has worked with youth, ages 12-24, teaching empowerment workshops through Women's Voices Now and the Girls' Voices Now program. She is a Holocaust educator who works within the Jewish community and is regularly invited to speak at public middle and high schools throughout Los Angeles to teach about antisemitism, other forms of racism and bigotry, and the power of film to make social change.
Soizic Pelladeau
Development Director
Soizic is responsible for leading fundraising efforts, including grant writing, individual donations and corporate sponsors. Soizic also oversees evaluation, monitoring and reporting across programs, and assists with strategic planning.
Soizic brings with her extensive experience in gender-specific program design and evaluation. While getting her master's degree in International Development and Political Science, she worked for Women's Worldwide Web in Paris, and then for the Division for Gender Equality at UNESCO for two years, where she supervised and updated monitoring & evaluation processes. In Los Angeles, Soizic worked as a Program Officer for the Cultural Services of the French Embassy from 2016 to 2018 before joining Women's Voices Now. Soizic occasionally consults for UN Women, assisting with evaluation and performance analyses of UN agencies' efforts to promote gender equality.
Chelsea Byers
Programs & Partnerships Director
Chelsea is responsible for managing WVN programs, and leads partnership development and community outreach efforts both locally and internationally, on behalf of WVN.
Chelsea comes to WVN with a background in creative change making, organizing, and advocacy. A passionate activist on issues regarding gender and sexual-based violence, Chelsea successfully campaigned to overturn California's statute of limitations on rape and sexual assault in 2017 and co-organized the first #MeToo Survivors March in Los Angeles. 
Chelsea is part of the Beautiful Trouble collective, where she facilitates resources development and content creation for an online toolbox that supports organizers and activists around the globe. She has organized countless campaigns and demonstrations for social justice, held vigils for political prisoners and whistleblowers, and earned media for stunts, pranks, and creative disruptions, alongside some of the most innovative and strategic nonviolent activists working in social movements.
Gabriela Grant
Development Coordinator
As Development Coordinator, Gabriela contributes to developing and implementing Women's Voices Now fundraising activities and strategy.
Gabriela recently graduated from The University of Maryland, College Park with a B.A. in Dance and Social Change Through Dance. She developed her passion for women and girls' voices in her studies as a Dance major.
Grant had the opportunity to study the hyper-sexualization of the BIPOC Female dancing bodies in popular media and further developed this research into a work titled "I AM WOMB" for the University of Maryland's Second Season. 
In her interdisciplinary studies in Social Change Through Dance, Gabriela had the opportunity to help girls amplify their voices around the prejudices they face through creative expression by working with them to use movement as a transformative tool. 
Currently in Los Angeles, Gabriela has been working to develop her creative artistry. She hopes to inspire young girls to pursue their wildest dreams, regardless of the societal barriers that may work against them. 
Yasmeen Al-Shawwa
Communications Director
Yasmeen leads WVN's communications and social media strategies. She is also the host and curator of the Voices for Change Screening and Discussion Series.
In her early 20s, her curiosity and devotion to exploring the world drove her to pursue a Master's degree in Journalism at Columbia University. After six years of international reporting on business, culture, and immigration, she decided to switch gears and focus on utilizing her storytelling tools to empower conscious organizations + businesses.
Yasmeen now specializes in helping identify, amplify, and disseminate mindful narratives to audiences across multiple online platforms.
Growing up in a multicultural family and living in several countries throughout the Middle East and Latin America allows her an expansive perspective and unique lens of the world around her.
Through government laws and societal norms from Saudi Arabia to Argentina, Yasmeen has experienced first-hand accounts of support and suppression for simply being a woman.
She whole-heartedly believes in the power of advocating for women's rights, education, and progression in order to create a more sustainable and peaceful collective existence.
Lamine Ascofaré
Growth Strategist
Born in Mali and living in Dakar, Senegal, Lamine is the Growth Strategist of Women's Voices Now. 
He oversees WVN's digital strategy, marketing technology, advertising budget, and online fundraising. 
He is experienced in creating and executing high-impact digital marketing campaigns. 
Lamine enjoys discovering new music and recording his own in the studio.
Rachel "Sink" Lindsay
Social Media Coordinator
Rachel "Sink" Lindsay assists with developing and implementing WVN's social media strategy.
From a young age, Rachel has been drawn to all things storytelling. A performer, writer, producer and creative strategist with a background in screenwriting and magazine editing, she finds joy in all narrative mediums. Rachel spent many years working in development and production at Universal Studios and on several commercials and films before returning to her first love: performing.
A cinematic singer-songwriter for many years, Rachel's music was recently featured on Netflix's LUCIFER and IN FROM THE COLD, Hulu's FRESH, and Apple TV's DR. BRAIN. She also wrote and performed a deliciously foreboding neo-noir song for Robin Wright's directorial debut short film THE DARK OF NIGHT, which premiered at Cannes Film Festival. In the fall of 2022, Rachel headed up her first short film project with a 100% femme crew. 
She is probably down a YouTube rabbit-hole or stirring up mischief with her fun-loving family at the moment.
Contact Rachel: [email protected]
Sarah Moshman
Media Instructor
Sarah Moshman
believes in the power of STORYTELLING to change the world.
Sarah is an Emmy Award-winning documentary filmmaker and TEDx speaker whose work has been featured on Upworthy, Marie Claire, PBS, Hulu, CNN, Netflix, and
Good Morning America
.
After directing two short documentaries about female empowerment in young women, (
Girls Rock! Chicago
(2010) and
Growing up Strong: Girls on the Run
(2012)) she set out to direct her first feature doc
The Empowerment Project: Ordinary Women Doing Extraordinary Things
(2014) which has been screened over 1000 times around the US and the world in schools, groups, organizations and corporations starting conversations about gender equality.
With Indieflix as the distributor, the film has been sponsored by major brands like Nordstrom, American Girl, and Microsoft to spread this message far and wide.
Sarah's second feature doc,
Losing Sight of Shore
follows the incredible journey of four women who rowed across the Pacific Ocean. The film was released globally in 190 countries on Netflix in May 2017.
NEVERTHELESS
is Sarah's third feature documentary which takes a look behind the headlines of #MeToo and Time's Up to shine a light on the sexual harassment crisis and use the power of cinema for change.
Most recently Sarah brought her talents to the narrative realm and directed an award-winning short fiction film
UNBOUND
about the first mother to go to space starring Lauren Lapkus (
Orange is the New Black
). In 2022,
UNBOUND
won First Place at NASA's CineSpace Global Short Film Competition and screened on the
International Space Station!
Sarah also completed a short she wrote and directed called
A Mother is Born
about the profound identity shift that comes with early motherhood.
Andrea Gonzalez Mereles
Media Coordinator
Andrea González Mereless is a Mexican cinematographer that specializes in narrative storytelling. Her projects have been screened in numerous international film festivals; Viena, Zurich, LA Film Festival, Guadalajara, Guanajuato, Rhode Island, among others.
Her most recent feature film, as a cinematographer, was awarded the incentive FOCINE funded by the Mexican Institute of Cinematography.
Andrea has been supported by the prestigious Fulbright program, Women in Film and the American Film Institute Conservatory to develop her career. She was a Project Involve Fellow and a Berlinale Talents participant. She's an active member of the International Collective of Female Cinematographers and Apertura. Her commercial clients include Ford, Grindr, RAM, Heineken, Bank of America, Amazon and Netflix.
With 10 years of experience as a director of photography, her true interest lies in the art of telling stories. Cinematography is a professional journey she's embarked on but it's also a personal one.
Her intention is to understand what it means to be a human being; weaknesses, strengths and doubts, to portray it in her body of work. She's currently based in Los Angeles, CA and Mexico City.
Morgan McIntosh is an incoming junior attending Howard University. After college, she plans on working in the field of entertainment, specifically by pursuing directing, writing, and overall indulging in media production. Morgan has always found herself holding a drive for creating films since her childhood.
She is also passionate about spurring change in her community and abroad, specifically through using film to highlight societal issues and amplify the voices of those underrepresented.
Whilst studying at university, Morgan continues to nurture her love of writing by majoring in Film & Television Production.
Throughout the past year, Morgan engaged in various writing and film-centered extracurriculars, such as being chosen as a script supervisor for Howard University's first ever afro-surreal anthropology series, soon to come out late fall.
Morgan is a Girls' Voices Now alumnae.